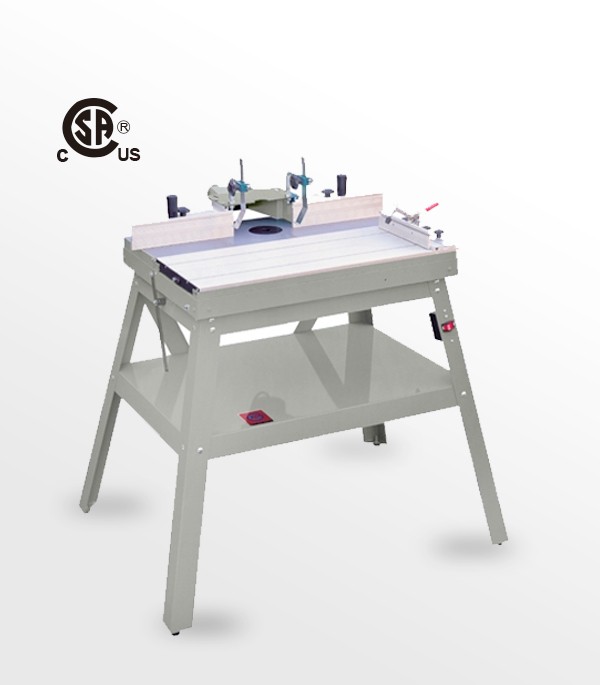 MS-R
Router
accepts any brand of portable router
FEATURES
---
It accepts any brand of portable router from a 3/4 HP to a 5 hp motor.
The tablecan be tilted 45.
The aluminumtable is precision groud.
The silding table is fitted with a toggle clamp for fast workpiece clamping.
Precision aluminum fence.
2" diameter dust hood.
The key switch prevents unauthorized operation of machine.
Steel stand included.
Aluminum sliding table gives convenient operation.
Spring hold-down is suppied as a standard accessory.
DESCRIPTION
---

PORTABLE ROUTER(not supplied)
The machine accepts any brand of portable router.
Installation of the router is easily accomplished by tightening the four screws.
TILTUNG TABLE
The table can be tilted 45 allowing for convenient installation and operation of the portable router.

SLIDING TABLE
The sliding table is extruded from lightweight aluminum.
It provides an effortless and extremely smooth operation.
Atoggle clamp is provided for fast workpiece loading and unloading.
SIZE
---
Suitable portable routers: 3/4 HP - 5 HP
Main table surface: 780 x 250 mm
Sliding table surface: 784 x 310 mm
Table tilts: Degree 45
Table inserts: Ø100 mm
Table height: 34" (850 mm)
Fence sizes (each side): 270 x 50 mm
Dust hood outlet: Ø2"
Net weight: 54 kgs
Gross weight: 56 kgs
Packing dimensions: 33-1/2" x 24" x 7-1/2"