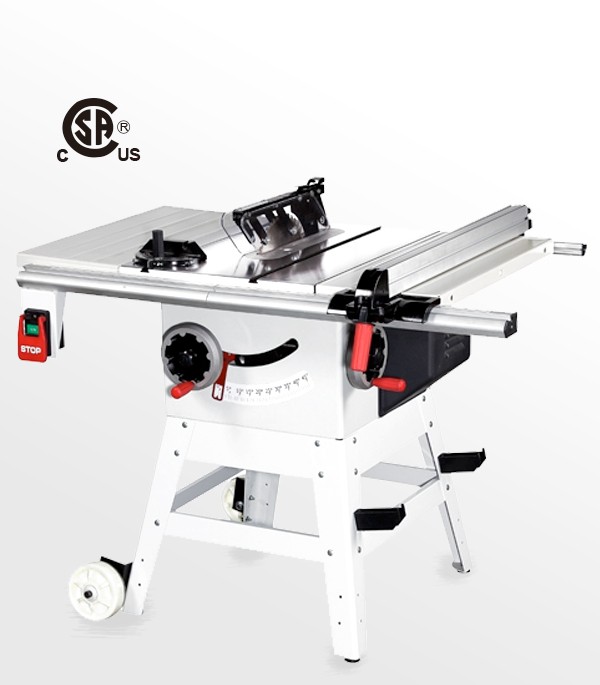 MS-10RA
Table Saw
Durable sawblade guard for operator safety
FEATURES
---
Equipped with a 1.5HP motor for heavy duty cutting.
Ruggedly constructed saw carriage provides maximum cutting stability.
Heavy, precision-machined trunnion ensures accurate saw tilting.
Fence locks securely and precisely parallel to the sawblade.
Durable sawblade guard for operator safety.
Button type switch.
Fitted with precision fence for high accuracy cuts.
The blade guard can be dismount easily to facilitate maintenance purpose. Also, it have different type can be choose.
The riving knife can perform vertical adjustment with the main sawblade.
SPECIFICATION
---
Blade diameter 10" (254 mm)
Arbor diameter 5/8" (16 mm)
Maximum depth of out at 90° 3-1/8" (80 mm)
Maximum depth of out at 45° 2-3/16" (56 mm)
Max.rip to left of blade 12" (305 mm)
Max.rip to right of blade 30" (762 mm)
Dado capacity 13/16" (20 mm)
Arbor speed 4000 rpm
Motor 1-3/4 HP
SIZE
---
Table height 36" (910 mm)
Table size(w/o extension wings) 40" x 27" (1016 x 686 mm)
Table size(w/o extension wings) 20" X 27" (508 X 686 mm)
N.W 116 kgs
G.W 131 kgs