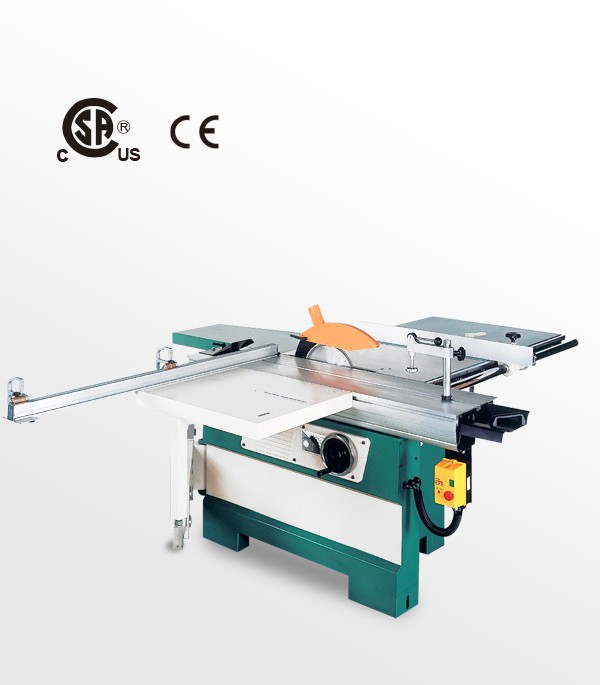 SS-1800A
Sliding Panel Saw
MAIN AND SCORING SAWBLADE
FEATURES
---
Main and scoring saw blades ensure tear-free cutting.
Durable extruded aluminum slide provides extremely smooth traverse.
Large handle for effortless cutting operations.
Blade tilts dreege 45 for miter cutting.
A miter gauge is equipped on the slide, allowing miter cutting at 45 dreeges-right and left.
Extension table on right and rear side of main table features convenient cutting for large panels.
Ruggedly constructed throughout for maximum stability.
The machine is driven by 4KW motor.
The main table is made by cast iron. Table surface is precision ground.
Quick clamp on sliding table.
Durable plastic blade guard.
The riving knife can perform vertical adjustment with the main sawblade.
The firm, accurate fence has micro adjustment function.
DESCRIPTION
---
DIGITAL POSITIONING READOUT(Optional)
The extruded aluminum rip fence is equipped with a high precision digital readout for accurately controlling fence positioning.
It provides imperial and metric size display.
EXTENSION TABLE
Table extension on right and rear side of main table provides convenient cutting for large panels.
MAIN AND SCORING SAWBLADE(OPTIONAL)
The saw carriage is equipped with a Ø300 mm(12") mail sawblade and an Ø80 mm scoring sawblade ensuring tear-free cutting.
The scoring sawblade can be conveniently adjusted in the lateral and vertical directions from the top of the mail table.
SPECIFICATION
---
Max. Cutting thickness 95 / 76mm (degree90 / degree45)
Cutting width on rip fence 1220 mm
Trvel 1800 mm
Effective cutting stroke 1160 mm (45 5/8")
Main blade diamneter Ø300 mm
Main blade speed 4000 rpm
Scoring blade diamneter Ø80 mm
Scoring blade speed 8000 rpm
Scoring blade arbor diameter Ø20 mm
Motor power 4 kw
SIZE
---
Main table dimensions 835 x 565 mm
Sliding table dimensions 1500 x 350 mm
Dust hood outlet Ø115 mm
Net weight 475 kgs
Gross weight 540 kgs
Packing dimension 176 x 102 x 103 cm