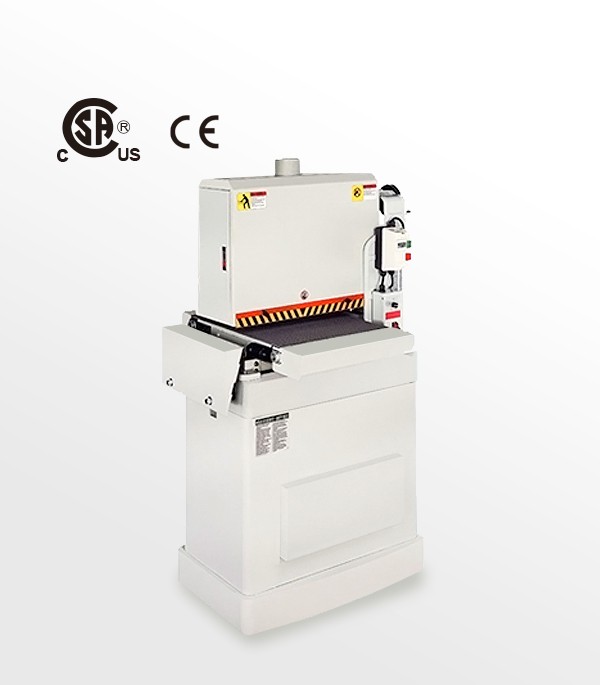 WBS-18x36
Wide-Belt Sander
Easy operation
FEATURES
---
Open end sander provides up to 36" sanding capacity.
Rugged rubber covered drum support frame.
Configuration of two sanding drums provides highly efficient sanding performance.
A depth scale in both inches and metric graduation is prouided on the drum support frame for indicating the thickness adjustment amount.
Table, belt, tracking is easy to adjust.
Easy operation for sanding belt replacement.
The sanding drum is driven by 3HP motor.
Machine drum will be swinging left and right to avoid wood chips attached to the sanding belt.
Extension table is adjustable according to operator's requirement.
SPECIFICATION
---
Max. Sanding width 18"
Max. Thickness of workpiece 3.3/4"
Min. Thickness of workpiece 1/4"
Drum speed 50 Hz - 1420 rpm
60 Hz - 1720 rpm
Freed speed 6 ~ 20 FPM
Drum Diameter 82 mm
Drum Length 482.5 mm
Drum Drive Motor 3 HP
Feed Drive Motor 1/6 HP
Dust Hood Outlet Diameter Dia. 100 mm
SIZE
---
Net weight 215 kg
Gross weight 265 kg
Packing dimensions 174 × 86 × 103 cm
Noise Level 82 dB