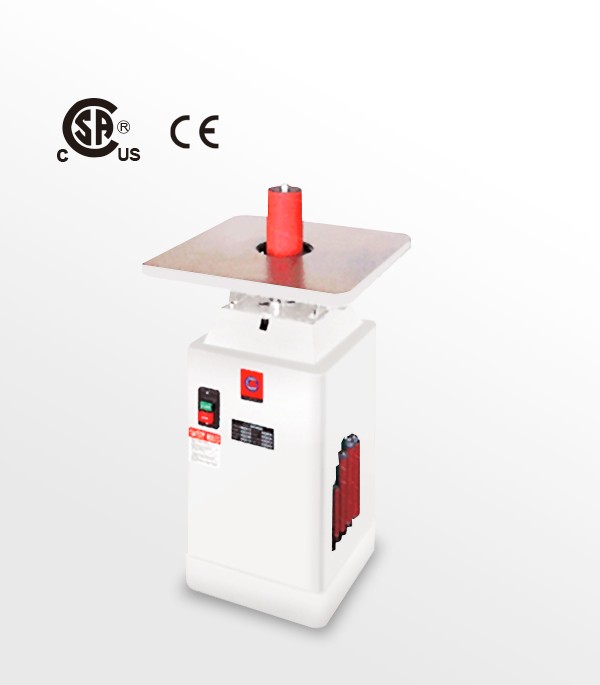 OVS-JM
Spindle Sander
easily interchanged spindles
FEATURES
---
The rubber drum can be fitted on both ends to fully utilize the entire spindle.
The oscillating sanding provides an extremely fine sanding finish.
The sanding drums can be accommodated.
Easily interchanged spindles.
The tilting table is precision ground.
Heavy gauge steel frame.
DESCRIPTION
---
A VARIETY OF DRUMS FOR FLEXIBILITY IN APPLIATION
The machine is furnished standard wuth ten sizes of spindle.
#1 1/4"dia.x5"long

#2 3/8"dia.x6"long

#3 1/2"dia.x6"long

#4 5/8"dia.x6"long

#5 3/4"dia.x9"long

#6 1"dia.x9"long

#7 1-1/2"dia.x9"long

#8 2"dia.x9"long

#9 3"dia.x9"long

#10 4"dia.x9"long

DUST HOOD
A dust hood is built under the table for connection to dust collector.
The dust hood outlet is 4" diameter.
EASY SPINDLE INTERCHANGE
This machine accommodates ten sizes of spindle from 1/4" to 4", diameter to fit the various rubber durm diameters.
Spindle change is easily made by using the supplied wrench.

TILTING TABLE
The tilting table can be easily tilted by loosening the two lock knobs located at both sides under the table for the sanding of bevelled parts.
A graduated scale is attached to read the tilting degree.
SPECIFICATION
---
Spindle speed 1400 rpm
Oscillations 60 /min
Oscillation stroke 38 mm
Sanding sleeve length 150 ~ 230 mm
Max. workpiece height 55 ~ 160 mm
Dust port diameter 100 mm
Motor 1 HP / 230 V / 50 HZ / 1 ph
SIZE
---
Table size (L x W) 610 x 610 mm
Table tilt 0 ~ 45°
Table height 990 mm
Overall (L x W x H ) 610 x 610 x 990 mm
Net weight 135 kg